What are our peer support groups?
Our peer support groups are an important part of our counselling support work. In general, there are 6-12 individuals per group and the group runs for six weekly sessions, facilitated by a qualified and experienced woman counsellor.
We see how valuable it is for survivors to meet other people who 'get it', making them feel less alone and even making it easier for them to let go of negative coping strategies and develop new positive ones.
Our groups counsellor said "I believe that this sort of safe space where survivors feel validated, accepted, heard, considered and cared for, fosters a different sense of self where they can begin to get their lives back."
Who is the service for?
Our peer support groups are available for woman, girl and AFAB non-binary survivors of sexual violence, no matter when the abuse occurred, from across Cambridge City, South Cambridgeshire, East Cambridgeshire and Huntingdonshire.
This includes LGBTQIA+ women and girls.
The way we work
Once you have registered your interest in joining one of our groups, we will add you to our waiting list and we will keep in contact with you as to when the next suitable group will be planned.
Please bear in mind that our funding is sporadic, so it may be a long time before we can run a group.
We will offer the group to those first on the waiting list (done in order of date when you registered your interest) and if it works for you we will arrange and short assessment interview with the facilitating counsellor to check the group will be suitable for you.
Once accepted to the group, our counsellor will speak with you directly about the dates and times for the sessions and what you can expect. The first sessions tend to include setting boundaries and your aims for the sessions, as well as looking at positive coping mechanisms.
If you join a group, we ask that you commit to attending all the sessions as this is an important part of the support. If you miss a session, we will normally ask that you end working with that group and go back on the waiting list for the next one.
Upcoming groups
We don't currently have any groups planned.
If you are interested in joining group support and would like to be kept up-to-date, please contact us (see below).
Useful resources
Other support services
Contact us
If you have any questions or would like to put yourself forward for future groups, please contact us: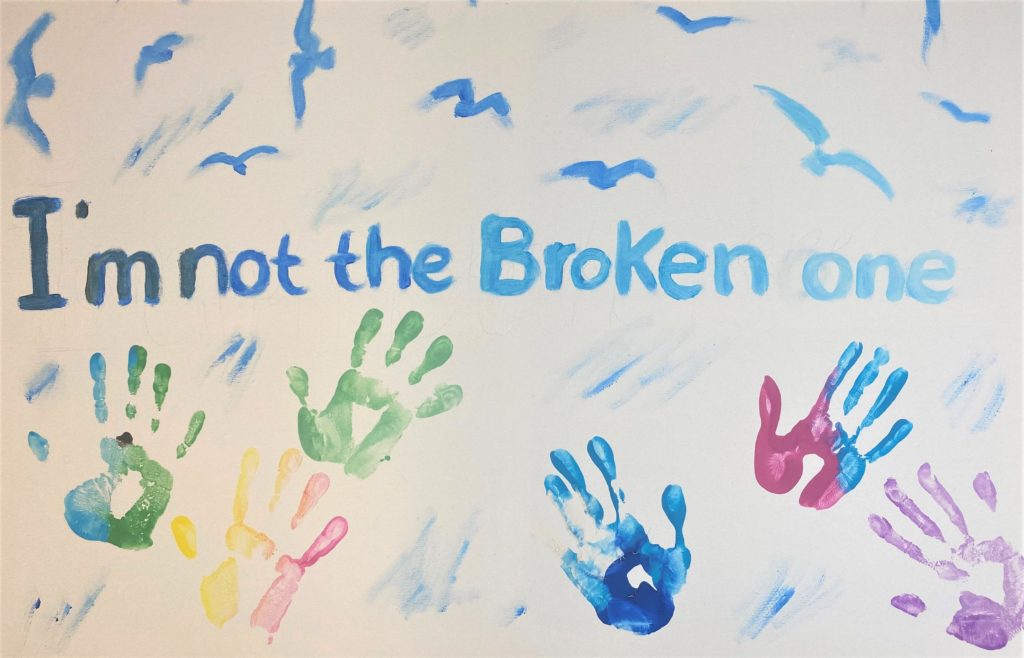 Survivors Peer Support Group – Spring 2022
Our most recent Survivors Group was based on the previous themes of the 'Hold the Hope' group for mothers of survivors, providing safe space for female survivors of sexual violence with other women who really "get it".
All the women who attended the support group said they felt heard and believed, they better understood what happened to them and how it had affected them and that they felt less alone and/or isolated. One woman said the support had changed their life for the better, whilst another felt she was much kinder to herself.
The group created the fantastic artwork opposite and just some of take-aways from the group meetings were:
"You are not alone" "It's okay to feel" "I'm not the only one"
Hope the Hope group – Winter 2019
Have have held two 'Hold the Hope' groups, the most recent at the end of 2019, which focus on supporting mothers of children and young people who have subjected to sexual violence or abuse.
The counsellor who facilitated the group said afterwards:
"Initially a lot seemingly gaining in the 'normalising' of each member recognising that despite their own sense of isolation that they all reported experiencing, they were not alone and that there were five mothers together, all with their own stories, but there for one another."
She also noted the positive impact the group had on the women involved by saying:
"It is evidently  so valued by the women… [and] this level of support is vital for not only their own well-being but also for that of their children, who are the young survivors, giving the mothers a chance to share their experience, coping mechanisms, understanding and wisdom."
Together, the group created the artwork on the right.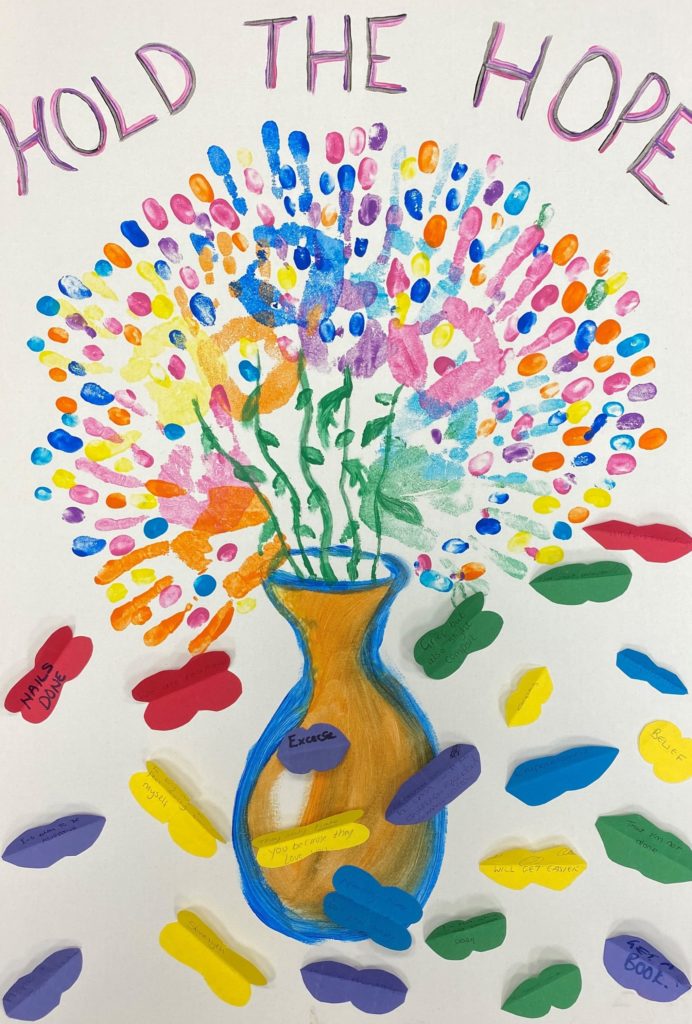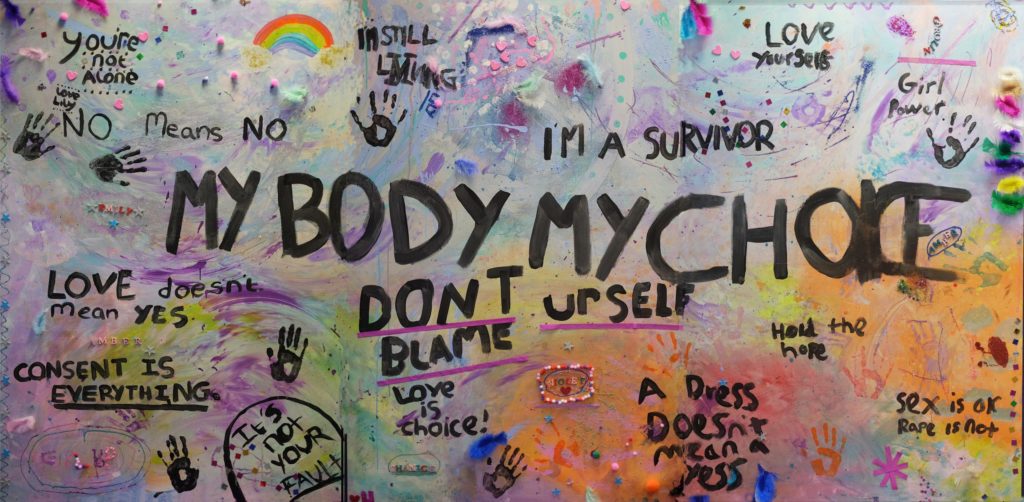 Girl Up group – Autumn 2019
'Girl Up' provided a safe space for girls aged 13-16 who have been subjected to sexual violence of any kind, to hang out and make friends; with group work to combat feelings of isolation, to build resilience and to learn positive coping strategies.
The facilitating counsellor saw a very positive impact on the girls as a result of the group, saying: "There were clear improvements in the girls' confidence in themselves and feeling more in control of their lives. All said they felt less isolated as a result, and that they felt heard".
The group also produced some rather incredible artwork together (see left).
Frequently Asked Questions